The advanced electronics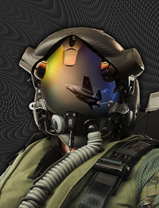 Radars, infrared sensors and data links with the capacity of receiving large quantities of information are integrated and presented in a systemized and pilot friendly way in the F- 35. Fusion of information is an important part of an aircraft`s capacities, a highly contributing part to what separates the fifth generation aircrafts from older aircrafts. The F-35 Lightning II has been equipped with the most powerful sensor package developed for a fighter up and till now.
The interplay of factors between sources of information present the pilot with detailed information prioritized out from the situation he currently finds himself in, coming to great use in providing the pilot with energy needed for an increased focus upon tactics. There occurs no direct teamwork between radars and sensors on today`s fighters, meaning that the pilot must undertake most tasks manually.