Joint Strike Fighter program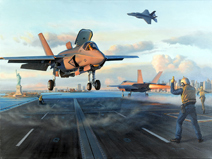 The Cold War was barely over and the F-16 Fighting Falcon was still a young aircraft when the U.S. government began to see how its successor should look like. A number of project teams considered different types of aircrafts that would solve various tasks for the U.S. Air Force, U.S. Navy and U.S. Marines, three branches with different requirements for fighter aircraft.
...This chapter describes the main features of most of the projects before it goes more into the JSF...
...The JSF are therefore developed in usage for three unique versions of the F-35 that is to solve comparatively similar missions, most of the composites also being similar...
...All three versions will be produced with only one single passenger seat, meaning that the basic training for new pilots of these aircrafts, will take place in simulators...
...The three different versions of the F-35 Lightning II are these:
F-35A, conventional-takeoff-and-landing, CTOL, for use on ordinary runways.
F-35B; short-takeoff/vertical landing, STOVL, capable of takeoff on a distance of 150 meters, all while landing vertically. This version is to replace the Harrier and the AV- 8B.
F-35C; aircraft-carrier version, CV, in use on American aircraft carriers.